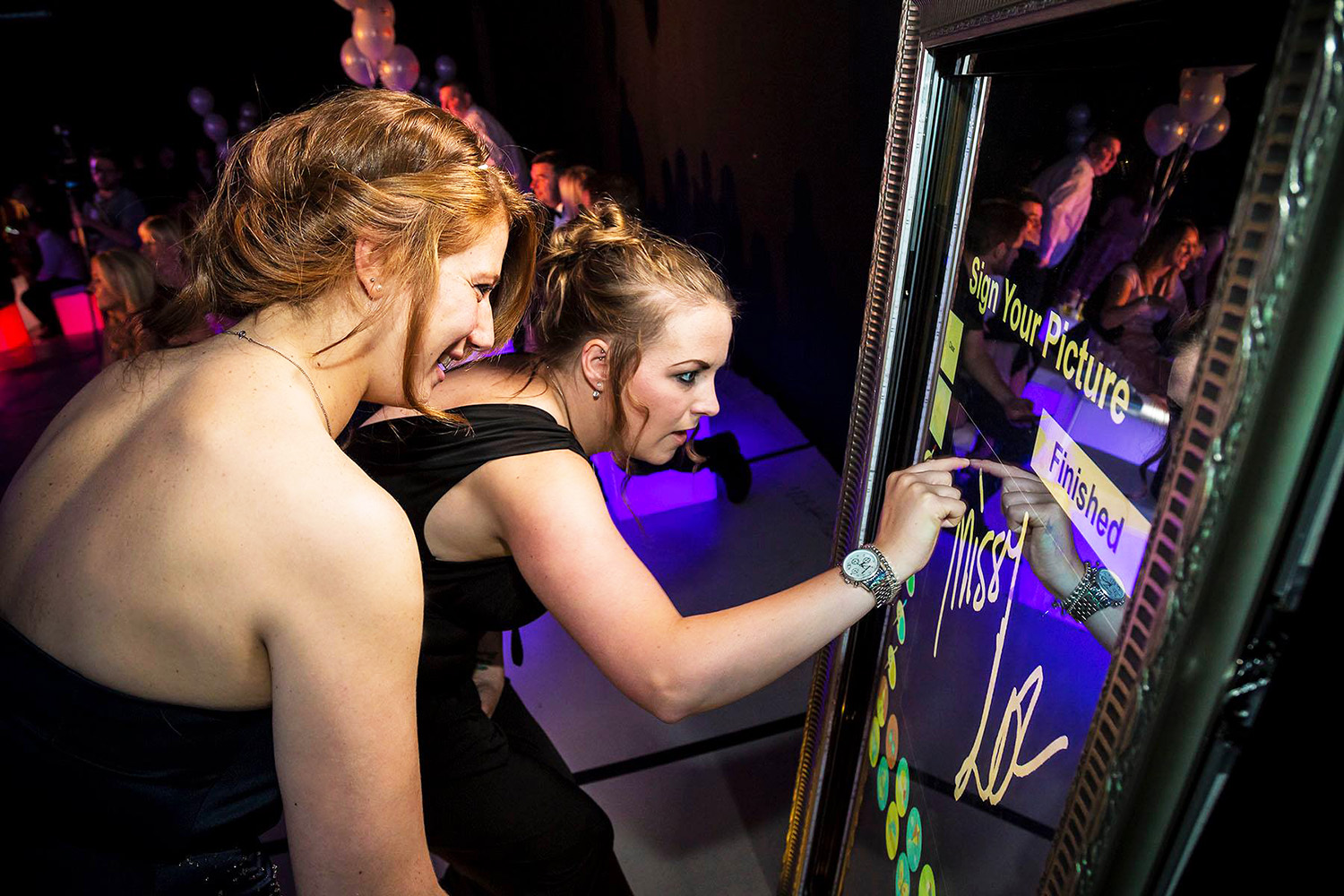 Entertain Guests with Fun Game Rentals
---
Make your next event memorable with an amazing photo booth. Whether you're seeking a budget-friendly option or our top-of-the-line Magic Mirror, we've got you covered!
Upgrade your party with our discounted event packages including your favorite characters, photo booths, concessions & more!

Photo Booth Rental Fresno
Say "cheese" with the best photo booth rental Fresno has to offer from Kealoha Events! We're your go-to source for the ultimate photo booth experience. Our equipment is the unsung hero of any event, big or small. We're taking selfies to a whole new level of awesomeness with a wide selection of photo booth rentals that include fun props, exciting backgrounds, special effects, and customization options that add the "wow" factor to any and every party!

Don't settle for those grainy, dimly-lit phone selfies when you could be the star of your own photo shoot. We've got the photo booth rental Fresno knows is packed with the latest technology, ensuring that you and your guests look like a million bucks. With Kealoha Events, every snap is a cover shot, every smile is Instagram-ready, and every pose is a keeper. Plus, our photo booths are just as easy to use as they are fun, so there's no need to be a tech wizard or professional photographer to effortlessly capture exciting moments.

Customers choose Kealoha Events time and time again because our brand is all about FUN. We're the life of the party, and we invite you to be, too! Anyone can rent a camera and a curtain, but we offer a full-blown photo booth rental Fresno can make into a tailor-made experience complete with custom themes and a digital gallery. With our rentals, we become your partner in capturing the magic. So go ahead, strike a pose across Fresno, California, and let's make memories worth sharing!


360 Photo Booth Rental Fresno: Elevate Your Event With Unforgettable Memories
Book the best 360 photo booth rental Fresno can provide and ensure your entire guest list leaves your event with an invaluable party favor! Our Kealoha Events photo booth rentals are the life of any and every party. Whether you're tying the knot or hosting a corporate gala, we have the equipment to make your event the talk of the town!


Weddings: Create an Instagram-worthy scrapbook with candid shots of your loved ones during your reception, bridal shower, rehearsal dinner, or cocktail hour!
Corporate Events: Boost team morale and maybe even catch the boss in a silly hat.
Birthday Parties: Give the birthday star a memory reel of their special day.
Graduations: Snap some last hurrahs with your classmates before heading into the "real" world.
Anniversaries: Celebrate love through the years, from the first date to the golden jubilee.
Baby Showers: Capture the glowing mom-to-be and her overjoyed entourage.
Retirement Parties: Document the well-earned exit from the 9-to-5 grind with a photo booth rental Brandon Fresno Central Valley will appreciate.
School Events: Make prom, homecoming, or even the annual bake sale a hit.
Fundraisers: Add a touch of flair to your charitable event!
Holiday Parties: From Halloween costumes to ugly Christmas sweaters, get it all on camera!
Whatever you're celebrating, just know that our photo booth is like the cherry on top of a perfect sundae. Smile, snap, repeat! This is the simple formula for memorable good times with friends and family. We've got the 360 photo booth rental Fresno can use as a cheat code for smiles and fun all year long. No matter the event, choose Kealoha Events to make it memorable and magical!
Exciting Options For The Photo Booth Rental Fresno California Recommends
We've got the photo booth rental Fresno California uses to step up their party game! We carry all of the latest, state-of-the-art options with all the high-tech bells and whistles. As for backdrops and quirky props, we've got an entire treasure chest full! With our expansive range of options, you're crafting an experience tailor-made to your vision with the snap studio photo booth rental Fresno can always count on. So why settle for the basics when you can have the extraordinary?


Aura Photobooth: Get ready to dazzle your guests with the Aura Photo Booth from Kealoha Events! This sleek, touchscreen kiosk doesn't just take photos; it's a full-blown entertainment hub. With professional lighting and top-notch photo effects, your pictures will look like they're straight out of a magazine. But wait, there's more! You can instantly share your snaps via email or social media and even play around with GIFs, boomerangs, and videos, making this the best Fresno CA music audio rental photobooth available. Plus, if you're looking to transport your party to exotic locales, our green screen feature has got you covered. Trust us, the Aura Photo Booth is the upgrade your event didn't know it needed!



360 Photo Booth: Elevate your event game with Kealoha's revolutionary 360° Photo Booth! This isn't your average photography equipment—it's a fully immersive experience. The revolving selfie ring light offers three lighting modes, each with 10 brightness levels, making it perfect for capturing crisp, evenly lit photos and videos from every angle. Ideal for social media enthusiasts and creatives alike, this booth is complete with an editing and sharing iPad and even offers an optional pro attendant. Custom setups, themed backdrops, and fun props are all included, so step in and get ready to shine!



Magic Mirror Photo Booth: Instead of searching for "photo booth rental near me Fresno CA," step into a world of whimsy with our popular Magic Mirror Photo Booth! This booth is where traditional photo booths get a magical makeover! This full-length mirror isn't just a mirror; it's an interactive selfie experience that talks and plays animations. From the moment you approach, it guides you with colorful visuals and voice instructions, offering a one-of-a-kind, classy memento that'll leave everyone talking about your event. Packed with the latest tech, this is more than just a photo booth—it's an instant keepsake generator. Get ready to be spellbound!
Capture Every Moment with Kealoha!
FIND THE PERFECT PHOTO BOOTH FOR YOUR EVENT
Check out each of our feature-packed photo booths below and request a booking. We'll be in touch to confirm availability! See what's included with our photo booth rentals below or contact us with any questions or desired customizations.
How It Works & What's Included
Our standard 3-hour photo booth packages come packed with fun and features! We also offer customized branding opportunities for businesses with our photo booths, contact us for details.
High Quality Photos
---
Enjoy high quality photos from your event. Our photo booths have options for print or file delivery depending on the package chosen.
Social Media Sharing
---
Each of our photo booths features integrations allowing users to share their photos on social media right from the kiosk touch screen.
Fun & Unique Props
---
You and your friends will have tons of fun taking photos with our range of props. Hats, feature boas, glasses, and more are available!
Special Effects
---
Spice up your photos and experience by utilizing all of the special effects and styling features with each of our photo booth kiosks.
Custom Photo Design
---
Create a lasting impression & make your event extra special with a customized event graphic on each of the photos for your guests.
On-Site Attendant
---
To ensure customer satisfaction and ease-of-use, we provide an on-site attendant with most rentals. Relax, we've got you covered!
How to Book Our Fresno Photo Booth Rental Online Today
Booking our fabulous Fresno photo booth rental is as easy as snapping a selfie! With just a few clicks, you'll have the cornerstone of your next epic event secured and ready to go. Here's how to make the magic happen using our online booking system:


Step One: Begin by browsing the selection of photo booths on our website. Pick the one that best fits your event's theme and vibe.
Step Two: Once you've found the perfect photo booth, click the "Book Now" button. This will initiate the reservation process.
Step Three: Select the date of your event using the pop-up calendar. Choose the start time for your event to ensure the photo booth is ready for action when your guests arrive. Then, select the end time for when you expect the celebration to wind down.
Step Four: Review your cart and make sure everything looks great. You can continue to add items or click the "Checkout" button to continue with your reservation.
Step Five: Fill in your contact, billing, and event details, as well as any special instructions you might have. Be sure to review our waivers and continue to the checkout page.
Step Six: Finalize your reservation and make the minimum deposit payment with any major credit or debit card to secure your photo booth rental for the big day.
Step Seven: You'll receive an email confirmation with a digital copy of your receipt, and one of our team members will reach out to confirm a drop-off window that works best for you.
Booking with us has been made so simple, it's picture-perfect! Don't hesitate to give us a call at (559) 274-3715 and a member of our friendly and knowledgeable staff will be happy to guide you through the process. So why wait? Reserve your Fresno photo booth rental now and get ready to make some unforgettable memories!
Photo Booth Rental Fresno CA: Capturing Fun Across Central California
We're proud to deliver the photo booth rental Fresno CA knows and loves across a broad range of zip codes in Fresno County, including 93650, 93701, 93702, 93703, 93704, 93705, 93706, 93710, 93711, 93720, 93721, 93722, 93723, 93725, 93726, 93727, 93728, 93730, and 93737. We also happily serve Madera, Sanger, Reedley, Chowchilla, Parlier, Mendota, Firebaugh, Los Banos, Delano, Bakersfield, Visalia, Tulare, Dinuba, Exeter, and the surrounding areas of Central California. We're proud to partner with local clubs, community organizations, and the Fresno Unified School District, adding an extra layer of fun to school events and fundraisers and living up to our name as the best photo booth rental near Fresno CA!

We're big fans of hosting events at local parks, including Woodward Park, Roeding Park, Holman Park, Martin Ray Reilly Park, Koligian Park, and others, and we have the photo booth fun that can come straight to you. We're your all-inclusive party rental provider and have everything you need to host an exciting and unforgettable outdoor event, including inflatables, games, character rentals, tables, chairs, and more.

From the high-energy events in the city to the more laid-back rural gatherings, we relish capturing smiles across Fresno County and central California. When you book a photo booth rental Fresno CA trusts from our team, you're getting to capture a piece of what makes this community special.
FAQs About the #1 Photo Booth Rental Fresno Can Provide
Do you have questions about the best photo booth rental Fresno has to offer? We have answers! Check out our frequently asked questions to learn more and get in touch with our team by giving us a call at (559) 274-3715 today!


Do you have different styles of photo booth rentals?

Absolutely! We have a range of photo booth options that can accommodate small and large gatherings and events, including our aura photo booth, 360 photo booth, and magic mirror photo booth options. If you're on the hunt for a Fresno music audio rental photobooth, we have the top selections for you!

Is a deposit required for photo booth rentals?

Yes, all orders require a 50% deposit to confirm the reservation. These deposits are fully refundable if you cancel eight days before your rental date. If you cancel between 2-7 days before your rental, you will be given a rain check that is good for one year so that you can reschedule the photo booth rental Fresno chooses first!

Is someone available to operate the photo booth during my event?

Yes, we provide a trained on-site staff member so that you can sit back and enjoy the photobooth rental Fresno and surrounding areas count on while our professional team member handles the setup, operation, questions, and teardown.

Do the photo booths come with props and accessories?

Absolutely! Our photo booths include a variety of fun props and accessories to spice up your photos. We offer the photo booth rental Fresno depends on to be exciting and over-the-top, including hats, boas, glasses, and more!
What other types of rentals can I reserve for my event? As your one-stop party rental shop, we have everything you need to host an exciting event, including inflatables, character rentals, games, event furniture, and the
dunk tank rental Fresno CA
recommends for festivals, school field days, fundraisers, and more. Be sure to check all of our options out by browsing our website!
Stellar Reviews for the 360 Photo Booth Rental Fresno That's Perfect For Parties
At Kealoha Events, we've got the 360 photo booth rental Fresno uses for all kinds of events, and we're excited to have a track record of 5-star ratings from our amazing clientele! Our photo booths are the life of the party, providing endless fun and high-quality photos that act as pieces of memorabilia to commemorate an exciting event. We go the extra mile to make sure everything runs smoothly, so all you have to do is strike a pose and make unforgettable memories! Read through a selection of our 5-star ratings below and schedule your 360 photo booth rental in Fresno online today!
I rented a photo booth from Kealoha Events for my wedding, and it was a hit! Everyone from my little nephew to my grandma had a blast. The photos turned out great, and we even got a digital album to keep! A 5-star experience for sure.
-Alice S.
Kealoha Events provided a photo booth for our company event, and it couldn't have been better. Setup was quick, and the props were hilarious. It added so much fun to our gathering! Definitely 5 stars!
-Teresa W.
Their photo booth was the highlight of my daughter's sweet sixteen! High-quality photos and lots of fun props. The staff was also super helpful. 5 stars all the way!
-Anthony D.
Previous
Next