Magic Mirror Photo Booth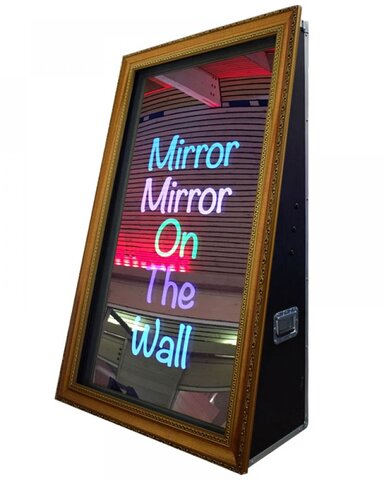 3 HOURS:

Regular Price Up To 3-Hour Rental:

$899.00

4 HOURS

Keep It an Extra Hour!

$1,049.00

5 HOURS!:

Keep It an Extra 2 Hours!

$1,199.00
Description
The Magic Mirror Photo Booth from Kealoha Events takes photo booth fun to a whole new level and offers an unparalleled class to your occasion.
As guests walk up to the mirror, colorful animations and voice guidance invite them to engage in a magical, interactive "selfie" experience presenting a photo keepsake.
ON SALE! (Reg $999) Impress your friends with the most elegant and feature-packed photo booth!
Magic Mirror is a unique photo-generating product offering the latest technology in interactive picture-taking. The full-length mirror offers a sleek design and a user-friendly interface, communicating with guests through a touch screen of colorful animations and entertaining voice guidance.

Get Excited About Magic Mirror
Magic Mirror is perfect for every occasion! Whether you're planning your big "I do" or just want an extra special birthday celebration, your guests will love the top-of-the-line Magic Mirror Photo Booth.
With a customizable workflow and layout builder, you can choose from a wide array of features to include in the interactive photo-taking experience. Choose to include voice guidance, gesture & movement detection, vibrant animations displayed on the mirror, touch screen photo-signing, colorful and fully customizable emoji stamping, an interactive "Screaming Contest", social games, and a colorful photo countdown.