Mechanical Shark Ride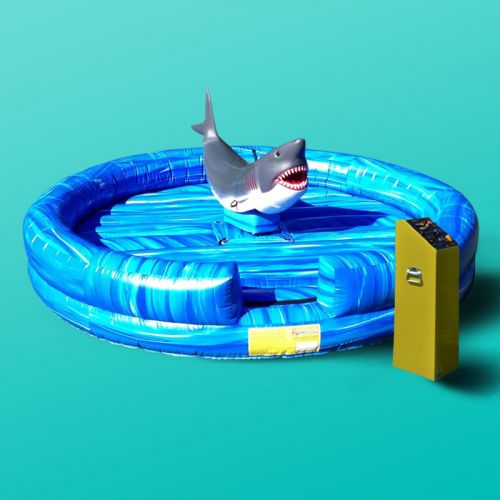 GOOD:

3 Hour Rental

$749.99

Better:

4 Hour Rental

$899.99

BEST:

5 Hour Rental

$1,049.99
Setup Area: 22' x 22' with a 12' height
Actual Size: 20' x 20' with a 10' height
Description
Look out, there is a shark in the shallows! Kealoha's Mechanical Shark Ride features a great white shark that will have everyone cheering on their friends as they show the shark who is boss in this deep blue sea. Create a frenzy at your next event with everyone rushing to tame the beast of the blue.
This ride is outfitted for the safety of every rider, with a soft head, soft foam fins, and an inflatable mat. The ride comes with an LED timer so your party guests can have shark riding competitions and beat each others' high score time.
We'll provide a professional mechanical shark operator who starts everyone out with a slow back and forth swaying motion. As soon as the rider gets comfortable, they'll increase the challenge by spinning and thrusting the mechanical shark (but only if the guest feels comfortable with it). Also, if you are comfortable operating the ride yourself, this can be arranged as well. Contact us for details.Requires space of 20' x 20' with a 10' height clearance. Each unit is cleaned and sanitized after every use.