Bounce House Rentals Fresno
For the best bounce house rentals Fresno has to offer, level up your celebrations with our phenomenal selections! Kealoha Events is a locally owned and operated company that puts the "WOW" in your special occasions. We're renowned for offering the most exciting and diverse inflatable bounce house options in the area, guaranteed to add a burst of fun to any occasion, year-round.

We're proud to offer delivery across Fresno, California, and the surrounding areas of Fresno County. When you book bounce house rentals Fresno customers can count on from our team, we roll out the red carpet for you. School districts, local organizations, clubs, churches, and families consistently choose Kealoha Event Rentals for our unbeatable bounce house selection, knowing they'll get quality, variety, and reliable service every time. Our dedication to creating joyful, memorable experiences has made us the go-to choice for adding that extra spark of fun to events throughout our community.

Reserving your perfect inflatable with Kealoha Event Rentals is a breeze, designed to be as easy, straightforward, and convenient as possible. We understand that planning a party involves numerous details, so we've streamlined our reservation process to save you time and prevent stress. With just a few clicks on our user-friendly website or a quick phone call, you can secure the ideal inflatable for your event. Our clear and simple booking system means you spend less time on logistics and more time focusing on the fun aspects of your party. At Kealoha Event Rentals, we're committed to making your event preparation enjoyable and stress-free, leaving you free to create lasting memories with your guests. Browse our inflatables page for the bounce house rentals Fresno can't get enough of and let's make your next bash a total hit!
The #1 Bounce House Fresno Has to Offer: Add Excitement to Events Year-Round
Kealoha Events is your ultimate destination for a bounce house Fresno rental that will amplify the fun and excitement of any occasion. No event is too big or small for our range of inflatables. Be it a neighborhood block party or a corporate retreat, our bounce houses add that dash of joy and interactive entertainment that makes your event the talk of Fresno County. While they're a no-brainer for kids' parties, don't be surprised to see adults reliving their childhoods with glee as they choose the all around bounce house company Fresno CA knows offers a universal appeal to the entire guest list.


Community Festivals: Our large bounce houses for rent in Fresno CA serve as a hub of activity.
Company Picnics: Yes, even adults can't resist a hop and a skip in the fun factory bounce houses Fresno employees adore. Family-friendly company outings become unforgettable events with the help of our exhilarating inflatables!
School Events: We're a big hit with the Fresno Unified School District, and they prefer to rent bounce house Fresno CA from our team!
Church Gatherings: Keep the youngsters entertained while the adults socialize at a range of church-centered events.
Family Reunions: Multiple generations can bond over bounces in our Fresno CA bounce house rentals.
Holiday Parties: Our Frozen-themed inflatables make seasonal celebrations even more spirited.
Bar and Bat Mitzvahs: Our large bounce houses can be a showstopper at these types of events.
Team-Building Events: Trust falls are more fun when they're in our Fresno CA indoor bounce houses.
Open Houses: Entertain potential buyers' kids, making it easier for adults to explore their potential new home.
Our bounce houses are cleaned and sanitized after each use, ensuring a safe and healthy fun zone for all. We're honored to serve the vibrant communities across Fresno County. With our team, you're renting a bounce house Fresno prefers and investing in a stress-free, extraordinarily fun experience for all involved. So make the leap and let us be your partner in crafting memorable moments!
Indoor Bounce House Fresno: Discover a World of Fun Options
Why settle for an ordinary indoor bounce house Fresno can rent when you can choose extraordinary with our selection? Our inventory of bounce house rentals in Fresno, CA, is off the charts! From superhero sagas to princess palaces, we've got a themed Fresno bounce house that'll make your party pop. Don't worry; we've got the grown-ups covered too. How about a sports arena inflatable for that game-day BBQ or a tropical luau bouncer for an adult birthday bash? With our extensive range, you're bound to find the perfect inflatable playground that resonates with your event's vibe. Quality, variety, and safety—those are the keystones of our bounce house offerings. Make your next celebration a bouncing success with Kealoha Events!


Batman Bounce House: Let your little superheroes unleash their inner Batman with our spacious and clean Batman Bounce House. This inflatable playground is ready to be the centerpiece of your event and takes just about 15 minutes to set up. Measuring a generous 16'6" x 15' x 14', it provides ample room for kids to jump, bounce, and save Gotham City in their imaginations. Each unit of the awesome bounce house Fresno CA loves undergoes rigorous cleaning and sanitizing, so you can focus on the fun. Be the hero of your next party with our gravity-defying selections!


Disney Princess Bounce House: Dive into a world of royal enchantment with our castle bounce houses! Measuring a roomy 16'6" x 15' x 14', this whimsical play space is a dream come true for your little princesses and princes. Quick and easy to set up in just about 15 minutes, it offers a magical backdrop for hours of fun. And don't worry, cleanliness is next to princess-ness; every unit is rigorously cleaned and sanitized after each use, making it one of the best bounce houses rent in Fresno California. Make your next party a fairy tale adventure with our crew!


Elmo's World Standard Bounce House: Step into the colorful universe of Elmo's World with our 13' x 13' Standard Bounce House, designed to light up little faces with joy. Accommodating up to 800 lbs, this bouncy haven is perfect for Sesame Street fans of all ages. In just about 15 minutes, you can have this cheerful setup ready to go. With a 15' x 15' clearance requirement, it easily fits into most backyards or event spaces, which adds to its value as one of the best cheap bounce house rentals Fresno, CA has to offer. Plus, we prioritize your child's safety, ensuring each unit is impeccably cleaned and sanitized after every use. Make your next gathering a hit with this Elmo-inspired play paradise!
How to Book The Indoor Bounce House Fresno CA Prefers
Booking the dream indoor bounce house Fresno CA and the surrounding areas choose first is simple and straightforward. No more endless calls or paperwork—our online booking process is designed to get you from "just browsing" to "let's bounce" in no time. So grab your phone or laptop, and let's get this party started!


Choose Your Bounce House: Skip on over to our selection of bounce houses here and pick the one that's going to bring your party to life. Whether it's superheroes or princesses, we've got the theme you need! Note that we also have a bounce house for sale Fresno CA business owners can take advantage of.
Add to Cart: Found the one that's going to make your party pop? Hit that "Book Now" button to take the first step in elevating your backyard bash with our bounce house rentals in Fresno California!
Set the Date: Now, click on the calendar to select the date you're planning to host your event. It's important to get this right so your rental is reserved for when you need it.
Timing is Everything: Choose the start and end times for your event to ensure our Fresno indoor bounce house is ready for action when your guests arrive and throughout the party.
Your Details: Fill in your contact information and the details of the event location. This is where you get to tell us where the party is!
Safety First: Don't forget to read through our damage, minimum payment, and electricity usage notices. We want everyone to have a blast, but safety is our top priority.
Checkout: Once you've reviewed everything, complete payment using any major credit or debit card and submit the required 50% deposit. You'll receive an email confirmation, and our team will be in touch to discuss a delivery window that works best for you.
If you'd prefer to rent the #1 outdoor and indoor bounce house Fresno CA has to offer over the phone, call us at (559) 274-3715 to get started today! We guarantee booking a bounce house in Fresno CA is simple and stress-free with the help of our knowledgeable and friendly team. You'll be all set to make your party unforgettable in no time!
Bounce House Fresno CA: Serving Our Community with a Wide Delivery Reach
We're overjoyed to serve the Fresno Unified School District. School events just got a fantastic boost with the bounce house bonanza Fresno can count on! Whether it's a school fair, a sports event, or a PTA meeting, you can count on us to add to the fun. Our customers enjoy hosting special events at our amazing local parks, including Woodward Park, Roeding Park, and Trolley Creek Park. As your all-inclusive party rental provider, we have everything you need to host an exciting and unforgettable outdoor event, including concession machines, tables, chairs, and generators. Be sure to add everything you need to throw a memorable party to your cart before checking out and contact our team if you have any questions about setting up at one of our beautiful parks.

As a locally owned and operated business, we love showcasing all of the fantastic sights of Fresno! If you have family visiting, show them the iconic Tower Theatre and the mystical Forestiere Underground Gardens, or even catch a game or concert at the Save Mart Center. We're incredibly proud to be part of a community with such a rich history and culture. No matter the occasion, Keloha Events is thrilled to add some bounce to your step with the best bounce house Fresno CA can rent right here in our fabulous Fresno County!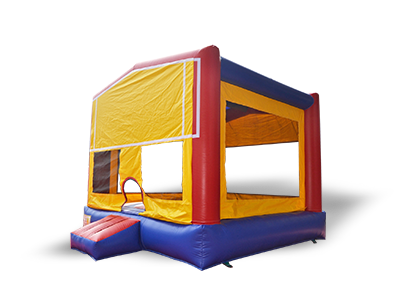 We've got the bounce house Fresno CA recommends most! Keloha Events is ecstatic to be your one-stop shop for bounce house rentals and party planning. You bet we're zooming all over the area, covering zip codes 93650, 93701, 93702, 93703, 93704, 93705, 93706, 93710, 93711, 93720, 93721, 93722, 93723, 93725, 93726, 93727, 93728, 93730, and 93737! Our delivery area covers a wide range of central California, including Madera, Sanger, Reedley, Chowchilla, Parlier, Mendota, Firebaugh, Los Banos, Delano, Bakersfield, Visalia, Tulare, Dinuba, Exeter, and the surrounding areas. That's right, from downtown to the farthest corners, we're the Fresno County bounce house rentals that have you and your next shindig covered!
FAQs About the Best Cheap Bounce House Rentals in Fresno CA
Anyone with questions about our cheap bounce house rentals in Fresno CA should check out our FAQs section to get all the answers you need for a stress-free party planning experience!
Q.
How do I book your bounce house rentals?
A.
Booking the bounce house bonanza Fresno, CA knows and loves is super easy! Just browse our website, choose the bounce house you want, hit the "Add to Cart" button, and follow the steps to select your rental date and time. It's that simple. Any questions? Give us a call at (559) 274-3715, and our team will be happy to help.
Q.
Are your bounce house rentals suitable for year-round use?
A.
You bet! Our bounce house rentals in Fresno CA are made of high-quality materials that can withstand all kinds of weather. So whether it's a scorching summer or a chilly winter day, your bounce house fun doesn't have to stop.
Q.
Do you have any bounce house options for carnivals or festivals?
A.
Absolutely! We have a variety of bounce houses that are spacious enough to entertain a large crowd. Just let us know your needs, and we'll recommend the best big bounce house Fresno has in store for you!
Q.
Are your bounce houses regularly cleaned?
A.
Yes! We work hard to make sure our bounce houses are spotless both before and after rentals. Our cleanliness and attention to detail make us one of the best bounce house places in Fresno CA.
Q.
Can they be set up on any surface?
A.
Our bounce houses are durable and made of commercial-grade, fire-resistant vinyl but grass and other flat, firm surfaces are preferred for the best experience. It should also be noted that we cannot set up on rocks or gravel of any kind. So keep this in mind when planning your next Fresno bounce house event.
Q.
How far in advance should I book a bounce house rental?
A.
We recommend booking our cheap bounce house rentals in Fresno CA as soon as your event date is set. Our rentals are quite popular and can be booked out weeks in advance, especially during peak party seasons. When you book in advance, you'll have the best selection to choose from and ensure that your desired bounce house is reserved for your special day.
Q.
What styles of bounce houses do you carry?
A.
We have dozens of exciting options to choose from, including your favorite characters and classic bouncy castles. From brightly-colored princess-themed bouncers to adventurous superhero-adorned inflatables, we carry it all. For double the fun, be sure to check out the #1
water slide bounce house Fresno CA
has to offer!